J-Birds
the first parrot blog

The guided and mis-guided adventures of new parrot owners and the people that encourage and support them. Cautions, advice, amusements and interesting stories about people and their parrots.
Available Babies
Parrots Wanted
Professional Nest Boxes
J-Birds Posts of Note
Parrot Links

Prior Months Posts

| | |
| --- | --- |
| the first parrot blog | |
Tuesday, May 16, 2006
Pet Sitters for Parrots, Dog and Cats in New Orleans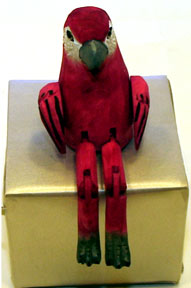 A friend of ours called today requesting that we assist in finding a boarding operation or a pet sitter for his pet parrot in New Orleans. Most of the numbers of people and veterinarians that used to provide this service are no longer active or are unanswered.
Fortunately we have a son, Evan, and his girlfriend, Ashley, who are very comfortable around parrots, cats and dogs and live in the university area of uptown and attend Tulane University. As "starving students" that love animals this is a good fit for them. If you are interested in pet feeding or sitting services for your pets and don't have a vet available, you can contact them at 985/778-8885.
- posted by J-Birds @ 8:04 PM |


All contents copyright © 2004-2005 J-Birds. All rights reserved.


The Weblog Review